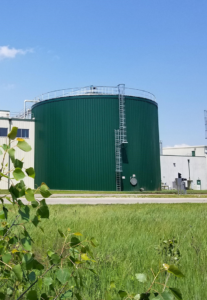 In 2022, Michigan rolled out new goals in its pursuit of carbon neutrality. With interim targets of 28% carbon reductions compared to 2005 by 2025, 52% by 2030, and carbon neutrality by 2050, Michigan has looked to become only the fourth state with such lofty, yet important goals. Following in the footsteps of states like California, Michigan has set its eyes on becoming the first state in the Midwest to target carbon neutrality.
Generate Upcycle, a wholly owned subsidiary of Generate Capital PBC, has been in Michigan since 2017 through acquiring the Fremont Regional Digestor. Now 6 years later, Generate Upcycle is continuing to forge new paths in the net-zero world in partnership with the State of Michigan and local government of Fremont.
In the beginning of 2023, the Michigan Department of Agriculture and Rural Development (MDARD) awarded 22 Rural Development Fund grants with the purpose of promoting the sustainability of land-based industries (food and agriculture; forestry; mining, oil, and gas production; and tourism) and supporting infrastructure that directly impacts rural communities.
"At MDARD, we are proud to continue to make investments into our rural communities that create more economic opportunities, and good-paying jobs, while expanding our food and agriculture industry" Tom Boring, MDARD Director, recently shared with the Fremont Times Indicator.
"We are a rural community here in Fremont, we embrace the opportunity to provide residents with free food scrap recycling which will increase organic recycling, affordable fertilizer for area farms and renewable energy for our community. "We applaud MDARD for funding and recognizing the importance of the unique infrastructure the Fremont Regional Digester provides" said Fremont City Manager, Todd Blake.
Generate Upcycle is proud to be a recipient of the 2023 Rural Development Fund Grant. Through this grant, the community of Fremont will have increased accessibility to sustainable food waste diversion opportunities. Generate Upcycle will be constructing a food waste drop-off location, free for local residents, and using the food received in their anaerobic digestors. Their anaerobic digesters will then process organic waste to produce liquid and solids fertilizers that support circular farming practices, renewable electricity, and biogas used to decarbonize the transportation and energy sectors. This will be one of the first-time residents can play a direct role in the waste diversion work of Generate Upcycle's Fremont location.
"We are proud of Generate Upcycle's partnership with the City of Fremont and the Michigan Department of Agriculture and Rural Development" shared Bill Caesar, Generate Upcycle President, "We look forward to putting this grant to beneficial use and opening another opportunity for local residents to join us in the zero-waste revolution. Food waste diversion will now be simpler and more accessible thanks to the generosity of MDARD!"
Generate Upcycle is leading the way in waste diversion efforts across the United State, Canada, and now the United Kingdom. Through multiple technologies and with many partners, the future is bright for Fremont, the State of Michigan, and every person looking to make an impact in the sustainability movement.